Welcome to Alfreton Town Council
This site provides you with news of local matters, contact details for the Council and Council Members, meeting dates, minutes and various other useful documents.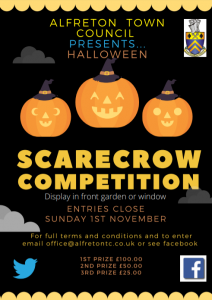 Halloween Scarecrow Competition – Rules of entry
Only residents of Alfreton Town can enter (Properties within the boundary of Train Line, A38, Brook and Chesterfield Hill)
Only residential properties can enter. No businesses.
Picture of your scarecrow to be submitted by 23.59pm on Sunday 1st November 2020. Through messenger or email to office@alfretontc.co.uk
Please confirm full name and address with entry.
Only one picture per household can be entered.
A person who is an employee, officer, member, volunteer or contractor of Alfreton Town Council may enter a scarecrow for fun and will not be entered into the competition.
All photos will be placed on a post by Alfreton Town Council.
Winners to be chosen and announced after 12 noon on Thursday 5th November 2020.
1st £100
2nd £50
3rd £25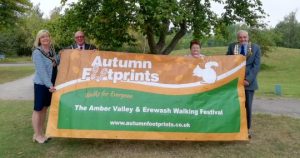 Unfortunately Covid-19 has put a stop to our usual plans for this year!
Walks in Amber Valley and Erewash in Derbyshire
However we want you this September to discover with your family/friends the great range of local walks in Amber Valley and Erewash which have been produced over the last 20 years.
Walking is very good for both mental and physical health – so why not see what is on your doorstep.
Please keep to the government guidelines, ensuring social distancing and currently no more than 6 people meeting from different households. Please see full list of walks below.
Link to the Autumn Footprints website
Alfreton Town Council
Monday, June 20th, 2022 at 2:35pm