Welcome to Alfreton Town Council
This site provides you with news of local matters, contact details for the Council and Council Members, meeting dates, minutes and various other useful documents.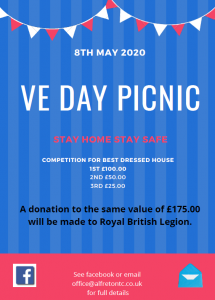 Best dressed house for VE Day, Stay at home picnic.
Rules of entry:
Follow Public Health England Guidelines and enjoy a safe picnic
Only residents of Alfreton Town can enter (Properties within the boundary of Train Line, A38, Brook and Chesterfield Hill)
Only residential properties can enter, no businesses
Picture to be submitted by 23.59pm on Saturday 9th May 2020, through messenger or email to townclerk@alfretontc.co.uk.
Please confirm full name and address with entry.
All photos will be placed on a post by Alfreton Town Council on Sunday 10th May
Winners to be announced after 12 noon on Wednesday 13th May 2020
Picture with the most likes wins
Prize:
1st £100.00
2nd £50.00
3rd £25.00
A donation to the same value (£175.00) will be made to Royal British Legion.
The event planned on Sunday 10th May 2020 has been cancelled and plans are underway to hold the event later in the year.
Alfreton Town Council have supported the Fareshare Midlands Charity with a donation of £1000.00 to support them during the Coronavirus crisis. 
Fareshare Midlands support in excess of 1000 families in Alfreton, Which represents just under 3% of their support in East Midlands.  Although that figure may be much higher given the unprecedented times that we find ourselves in. 
FareShare Midlands provides a very low-cost food solution to frontline charities and community groups helping them make essential savings on their food budgets, by redistributing good quality in date surplus food from the food industry. Good food becomes surplus for a number of reasons including overproduction or a short shelf life. We work with retailers, suppliers and manufacturers to access surplus food including fresh fruit and vegetables, meats, dairy products, tinned and dried goods.
Their food reaches vulnerable men, women and children of all ages and backgrounds who have fallen on difficult times and includes: homeless people, children living below the poverty line, refugees and low income families. The types of groups they support include hostels, schools, food banks, and community centres.
Their work is about more than just meals – without their service one in five of the charities and community groups supported,  would potentially have to close. Receiving FareShare Midlands food provides average savings of £7,900 which helps charities to continue providing vital support to thousands of vulnerable people.
Community groups, schools and charities can become a member of FareShare Midlands by completing an application form and by having a kitchen inspection by one of their staff. We then work with them to supply the types of food they need. Individual members of the public can access our food via these frontline organisations. They can be contacted by email enquiries@fareshare-eastmidlands.org.uk 
Alfreton Town Council
Wednesday, August 4th, 2021 at 11:24am