Welcome to Alfreton Town Council
This site provides you with news of local matters, contact details for the Council and Council Members, meeting dates, minutes and various other useful documents.
Following the recent government announcement staff will be working from home from Monday 13th December 2021 until further notice.
Please ring 01773 520032 and leave a message or email office@alfretontc.co.uk
Please note that staff are part-time and predominantly work 9-12.30 Tuesday to Thursday
https://www.gov.uk/guidance/working-safely-during-covid-19/offices-factories-and-labs 
Move to Plan B: 
The government has announced that England will move to Plan B in response to the risks of the Omicron variant. This means:
face coverings are required by law in some public indoor settings, such as shops, takeaways, (where there is no space for consumption of food or drink on the premise), and cinemas
office workers who can work from home should do so
from 6am on Wednesday 15 December, certain venues and events will be required by law to check the COVID status of customers using the NHS COVID Pass or other accepted proof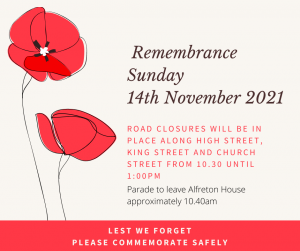 The service sheets for the Memorial can be downloaded here
Alfreton Town Council updated their cover photo.
Tuesday, January 11th, 2022 at 11:48am