Welcome to Alfreton Town Council
This site provides you with news of local matters, contact details for the Council and Council Members, meeting dates, minutes and various other useful documents.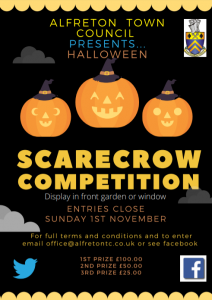 Halloween Scarecrow Competition – Rules of entry
Only residents of Alfreton Town can enter (Properties within the boundary of Train Line, A38, Brook and Chesterfield Hill)
Only residential properties can enter. No businesses.
Picture of your scarecrow to be submitted by 23.59pm on Sunday 1st November 2020. Through messenger or email to office@alfretontc.co.uk
Please confirm full name and address with entry.
Only one picture per household can be entered.
A person who is an employee, officer, member, volunteer or contractor of Alfreton Town Council may enter a scarecrow for fun and will not be entered into the competition.
All photos will be placed on a post by Alfreton Town Council.
Winners to be chosen and announced after 12 noon on Thursday 5th November 2020.
1st £100
2nd £50
3rd £25
Alfreton Town Council
Monday, January 4th, 2021 at 11:21pm