Welcome to Alfreton Town Council
This site provides you with news of local matters, contact details for the Council and Council Members, meeting dates, minutes and various other useful documents.
Following the recent government announcement staff will be working from home from Monday 13th December 2021 until further notice.
Please ring 01773 520032 and leave a message or email office@alfretontc.co.uk
Please note that staff are part-time and predominantly work 9-12.30 Tuesday to Thursday
https://www.gov.uk/guidance/working-safely-during-covid-19/offices-factories-and-labs 
Move to Plan B: 
The government has announced that England will move to Plan B in response to the risks of the Omicron variant. This means:
face coverings are required by law in some public indoor settings, such as shops, takeaways, (where there is no space for consumption of food or drink on the premise), and cinemas
office workers who can work from home should do so
from 6am on Wednesday 15 December, certain venues and events will be required by law to check the COVID status of customers using the NHS COVID Pass or other accepted proof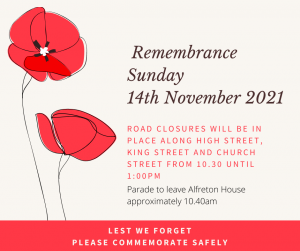 The service sheets for the Memorial can be downloaded here
VACANCY IN THE OFFICE OF TOWN COUNCILLOR
A vacancy has occurred in the office of Town Councillor for the East Ward of Alfreton as a result of the resignation of Councillor Lyndsey Hunt-Slade.
The Town Council will fill the vacancy by co-option at their meeting on 19th October 2021.
Interested persons must fulfil the following criteria
Be registered as a local government elector for the parish or have occupied as owner or tenant, within the preceding 12 months, land or premises in the parish or
Had their principal or only place of work, during the last 12 months, within the parish or  have, during the preceding 12 months, resided in the parish or within 4.8 kilometres of it
Be 18 years of age or over
Not be disqualified for holding office as a member of a local authority – the Town Council can advise you of this
If you meet the criteria and are interested in applying for co-option please contact the Joint Town Clerk David Holmes, Alfreton House, High St, Alfreton DE55 7HH which is open 9-00 to 12-30 on Tuesday Wednesday and Thursday
You can: write to that address, call in either in person or ask someone else to do so, telephone 01773 520032 (answering machine available) or you can email townclerk@alfretetontc.co.uk You will receive a straightforward application form which you are asked to complete and return. If you need any help in completing the form please inform the Town Clerk at the time of applying.
Closing date for receipt of applications is Thursday 7th October 2021 at 12 noon
Printed and published by the Town Clerk, Alfreton House, High Street, Alfreton, Derbyshire DE55 7HH
Alfreton Town Council
Friday, August 5th, 2022 at 5:48pm