Welcome to Alfreton Town Council
This site provides you with news of local matters, contact details for the Council and Council Members, meeting dates, minutes and various other useful documents.

Business Name
Opening Times
Safety Measures
Couture@24
9am daily
Team Bride Derbyshire
By appointment only
Appointments only
C.V. @ no.3 pre-loved boutique
10-2pm daily Closed Wednesday
Parkside Stables
Small group and private lessons
Small group and private lessons
Hays Travel
Shop closed. Contact: Alfreton@hays-travel.co.uk or by calling 01773 297041
Alfreton Indoor Market
https://www.facebook.com/groups/AlfretonIndoorMarket/
The front door will be the only access point into the market
• A one-way system will be in operation
• The side and rear doors will remain locked – with no through route from New Street through to Institute Lane
• Santising station located at the front door
• Aisles have been widened as far as possible so customers can pass safely if a customer is browsing at a stall
• Some traders have temporarily relocated to an alternative stall to ensure that Social Distancing guidelines can be adhered to
• The public toilets will remain closed
| | | |
| --- | --- | --- |
| MaD Alfreton Market | Crafts and gifts | Facebook, email to lisa@madhm.uk or contact us direct on 07871392432 and place your order. |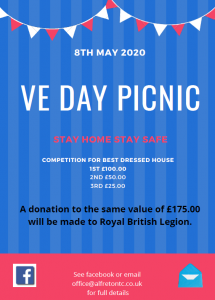 Best dressed house for VE Day, Stay at home picnic.
Rules of entry:
Follow Public Health England Guidelines and enjoy a safe picnic
Only residents of Alfreton Town can enter (Properties within the boundary of Train Line, A38, Brook and Chesterfield Hill)
Only residential properties can enter, no businesses
Picture to be submitted by 23.59pm on Saturday 9th May 2020, through messenger or email to townclerk@alfretontc.co.uk.
Please confirm full name and address with entry.
All photos will be placed on a post by Alfreton Town Council on Sunday 10th May
Winners to be announced after 12 noon on Wednesday 13th May 2020
Picture with the most likes wins
Prize:
1st £100.00
2nd £50.00
3rd £25.00
A donation to the same value (£175.00) will be made to Royal British Legion.
The event planned on Sunday 10th May 2020 has been cancelled and plans are underway to hold the event later in the year.
Alfreton Town Council
Monday, January 4th, 2021 at 11:21pm