Welcome to Alfreton Town Council
This site provides you with news of local matters, contact details for the Council and Council Members, meeting dates, minutes and various other useful documents.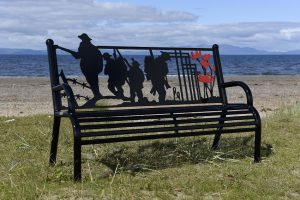 At the meeting in March, Members resolved to purchase a WWI memorial bench for Alfreton House.  This will be positioned on the lawn at the House to commemorate 100 years since the end of WWI.  On the 11th November 2018 at 7pm there will also be a lighting of the Beacon Ceremony to coincide with 1,000 other beacons throughout the UK.  More details will follow closer to the event.
There are further plans to install 2 further benches, one at the Centenary Green and one at the War Memorial.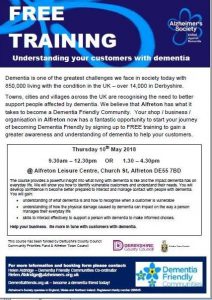 The Dementia Action Alliance are pleased to support this excellent opportunity for Alfreton Businesses and organisations to access a free 3 hour course to help them better support their customers living with dementia and enable Alfreton to become a dementia friendly town.
 In a quiet ceremony on a busy Saturday morning, Alfreton Town Council remembered the six million Jews murdered in the Holocaust.
The Mayor councillor John Walker laid a wreath of red and white flowers at the War Memorial on King Street. A reading was given by assistant Town Clerk.
Councillor Walker said: "It is a momentous occasion and the first time we have marked Holocaust Day. It is also intended to remember and honour those who have died as a result of genocide since then."
The Royal British Legion also took part in the wreath-laying, which is likely to become an annual event.
Many other local councils are beginning to commemorate Holocaust Day on January 27. The Holocaust Memorial Day Trust is based in London and supported by the Department for Communities and Local Government.