Welcome to Alfreton Town Council
This site provides you with news of local matters, contact details for the Council and Council Members, meeting dates, minutes and various other useful documents.
At the Annual Meeting of Full Council held in May, the Town Council elected Councillor Mary Kerry as its Mayor for the 2018-19 Municipal Year.
Councillor Mary Kerry has accepted her second appointment as Town Mayor and looks forward to promoting the Town of Alfreton. If you would like the Mayor to attend an event or visit your organisation then please get in touch,
The photograph shows the outgoing Town Mayor Councillor Walker presenting the new Town Mayor Councillor Kerry with her chain of office.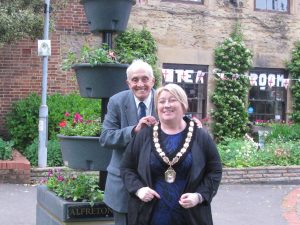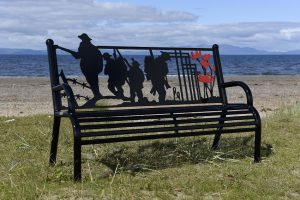 At the meeting in March, Members resolved to purchase a WWI memorial bench for Alfreton House.  This will be positioned on the lawn at the House to commemorate 100 years since the end of WWI.  On the 11th November 2018 at 7pm there will also be a lighting of the Beacon Ceremony to coincide with 1,000 other beacons throughout the UK.  More details will follow closer to the event.
There are further plans to install 2 further benches, one at the Centenary Green and one at the War Memorial.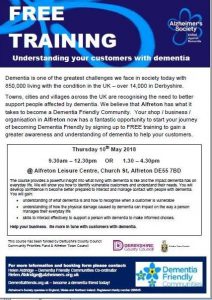 The Dementia Action Alliance are pleased to support this excellent opportunity for Alfreton Businesses and organisations to access a free 3 hour course to help them better support their customers living with dementia and enable Alfreton to become a dementia friendly town.