Welcome to Alfreton Town Council
This site provides you with news of local matters, contact details for the Council and Council Members, meeting dates, minutes and various other useful documents.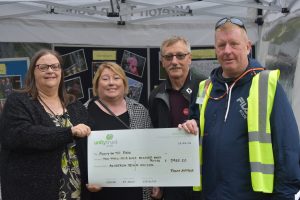 At the Party in the Park 2017, Alfreton Town Council members held a stall to raise awareness of what services the council offer.
Visitors to the stand were greeted by members and asked for their priorities for the town along with suggested names for the Village Green on Outseat's.  Once the information has been collated it will be published here and on social media.
A cheque for £2960 was presented to Liam Connell by Councillors M Kerry, G Dolman and S Marshall-Clarke from the grants fund of Alfreton Town Council.  This purchased the hire of the marquee and chairs for the event.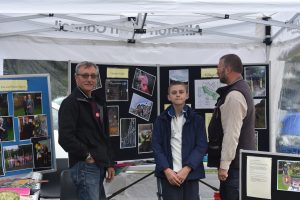 The Notice of Conclusion of Audit 31.03.2017 is confirmation that the Town Council have passed the audit for accounting year 2016/2017.  The notice can also be found on the Finance page, notice board and social media.
The Council and Staff said farewell to the Office Assistant Sharon Bidwell at a gathering on Tuesday 18th July.  Sharon has worked for the Council for more than 18 years firstly as a cleaner at Alfreton House and then as the Office Assistant.  Sharon will be missed by all and was thanked and wished well for her early retirement to spend more time with her family and young grandchildren.   Sharon was presented with a gift from the Mayor Councillor J Walker and fellow Councillors.