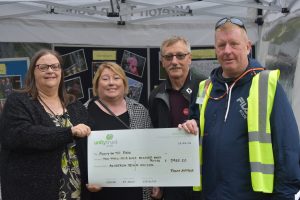 At the Party in the Park 2017, Alfreton Town Council members held a stall to raise awareness of what services the council offer.
Visitors to the stand were greeted by members and asked for their priorities for the town along with suggested names for the Village Green on Outseat's.  Once the information has been collated it will be published here and on social media.
A cheque for £2960 was presented to Liam Connell by Councillors M Kerry, G Dolman and S Marshall-Clarke from the grants fund of Alfreton Town Council.  This purchased the hire of the marquee and chairs for the event.