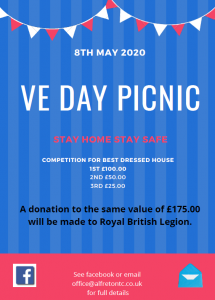 Best dressed house for VE Day, Stay at home picnic.
Rules of entry:
Follow Public Health England Guidelines and enjoy a safe picnic
Only residents of Alfreton Town can enter (Properties within the boundary of Train Line, A38, Brook and Chesterfield Hill)
Only residential properties can enter, no businesses
Picture to be submitted by 23.59pm on Saturday 9th May 2020, through messenger or email to townclerk@alfretontc.co.uk.
Please confirm full name and address with entry.
All photos will be placed on a post by Alfreton Town Council on Sunday 10th May
Winners to be announced after 12 noon on Wednesday 13th May 2020
Picture with the most likes wins
Prize:
1st £100.00
2nd £50.00
3rd £25.00
A donation to the same value (£175.00) will be made to Royal British Legion.
The event planned on Sunday 10th May 2020 has been cancelled and plans are underway to hold the event later in the year.