Town Clerk's Page
Alfreton Town Council employs five members of staff.
The Town Clerk, David Holmes, is the Proper Officer of the Council and as such is under a statutory duty to carry out all the functions, and in particular to serve or issue all the notifications required by law of a local authority's Proper Officer. The Town Clerk is accountable to the Council for the effective management of all its resources and will report to the Council as and when appropriate. The Town Clerk is responsible for ensuring that the instructions and decisions of the Council are implemented ensuring that the legal, statutory and other provisions governing or affecting the running of the Council are observed.The Town Clerk will also advise the Council on, and assist in, the formation of its policies. David has more than 30 years service with Alfreton Town Council.
Tina Crookes became the Assistant Town Clerk in April 2013. Tina supports the work of the Town Clerk with particular regard to management of Committees, management of all financial records and supervision of staff. Tina is the Town Council's statutory officer with regard to the annual audit, the management of the Town Council's accounts and notice of audit.
The Office Assistant, Vic Johnstone, provides office support to the Town Clerk and the Assistant Town Clerk. She undertakes day to day accounting and manages the Mayoral engagements.  Vic joined the Council in June 2017 following the early retirement of Sharon Bidwell.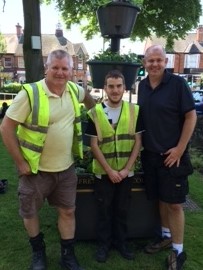 Steve Else is the Grounds Maintenance Operative, he joined the Council in March 2017 following the retirement of Steve Degg.  Steve maintains the grounds at Alfreton House and is responsible for the floral displays at Alfreton House, the House of Confinement, the War Memorial, the old Watchorn bus shelter area and at the Railway Station. Steve also carries out maintenance work at Alfreton House. Cormac Molumby is an apprentice with the Council and joined the Council in March 2016.